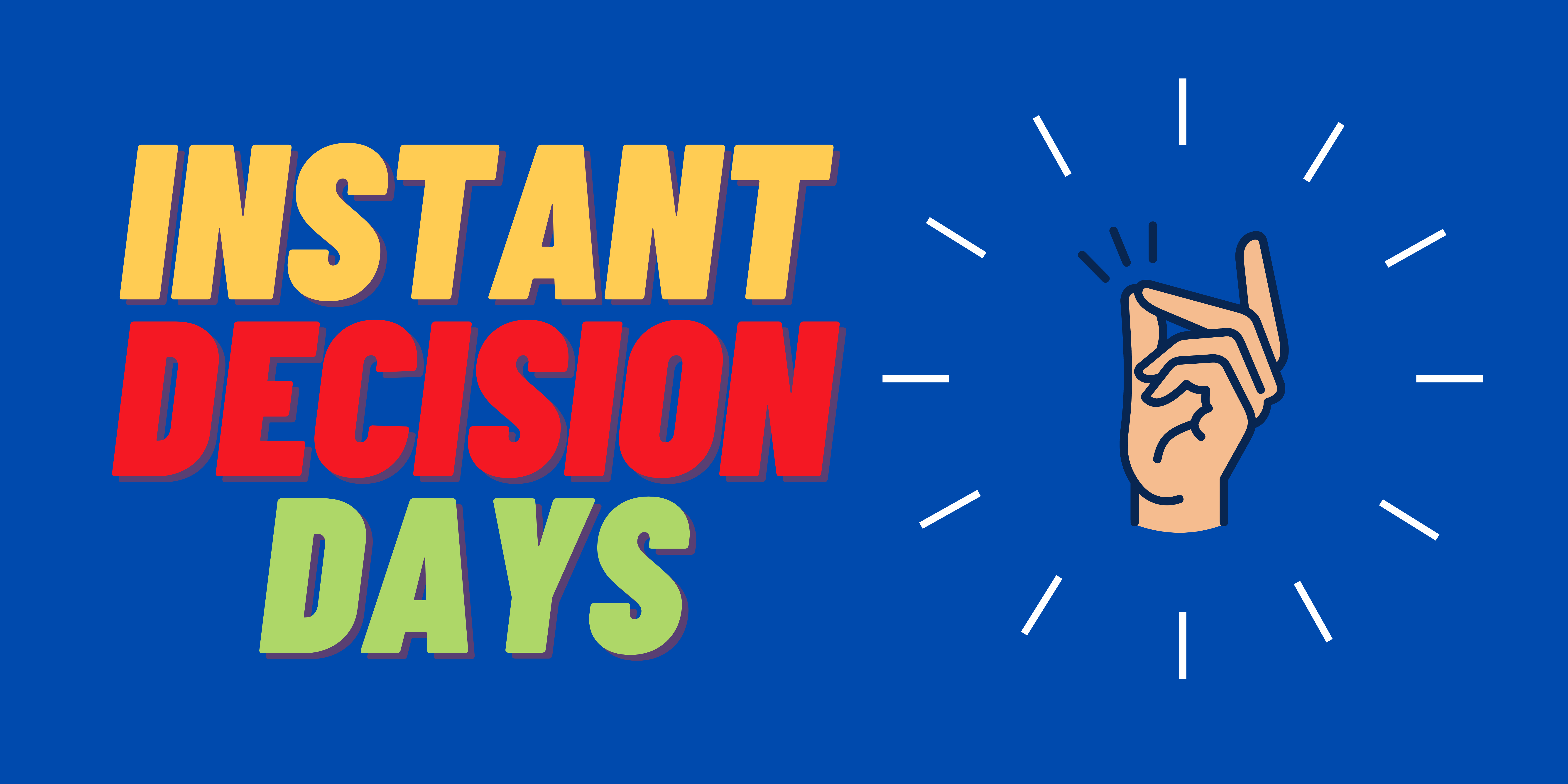 MHS 22-23 Instant Decision Days
Fall is Instant Decision Day Season!

What is Instant Decision Day you ask? IDDays provide an opportunity to meet with college/university admissions reps and know, by the end of your meeting, whether or not you've been accepted as well as any scholarships their school is offering.

Being accepted does not mean that you have to attend; it is simply an acceptance under your belt. Nice, right?

Interested? Your first step is to notify your school Counselor via this ID Day Google Form!

This year's colleges and dates and details are:

Thursday, October 20th -- 12:30 -3:30 (you will receive an appointed time)

Drew University

Fee Waiver DREW27

Accepts Common App or Coalition App

Friday, October 21st -- 12:30 - 3:30 (you will receive an appointed time)

Fairleigh Dickinson University

Click Here for FDU IDD info

Application fee waived - no code needed

Montclair State University

Click Here for IDD Info

Submit your Common Application and create MSU with the email you receive 2-3 days prior to IDD.

Most programs require a minimum of 2.8 GPA except Nursing (3.3) and Jurisprudence (3.0)

Application Fee Waiver - based on demonstrated financial need

Moravian University

NO Application fee: Encourages students to apply through their website. If a student does apply through Moravian directly, the personal essay can be waived.

Accepts

Seton Hall University

William Paterson University (details forthcoming)

Friday, Nov 18th 12:30-3:30OM

Ramapo College of New Jersey

Accepts

Wednesday, Nov 30th 9AM-12PM

Kean University

Fee Waiver GO2KEAN

Accepts Common App

Design or Theater programs require a portfolio or audition and are not included in IDD acceptance.

Students must complete the appropriate application for any school they are interested in seeing BEFORE Instant Decision Day. Counseling will provide transcripts and Letters of Recommendation to the school.

Again, if you are planning on participating in any of the ID Days, you MUST let your School Counselor know via the ID Day Google Form!

You will receive your appointment time after submitting the form.

All applications MUST be submitted ONE WEEK prior to the actual Instant Decision Day date.

Also please make sure you frequently refer back to the College Application Handbook. There is an enormous amount of information that you will need in order to navigate these next few months.

As always, if you have any questions please feel free to reach out to any one of your counselor.